Step out of vicious cycles,
broaden your perception, embrace complexity.
Strategic Integral Consulting
for Purpose-Driven Organisations
"We engaged Majka at EIT Climate-KIC to work on the scaling strategy of one of our core programs, The Journey. It was an absolute pleasure to work in a team with Majka to develop the strategy. She pushed the process forward to make sure we got results, diligently brought information together and creatively suggested out-of-the-box ideas, building on a strong theoretical and practical understanding of how to scale impact. Only through the teamwork with Majka were we able to get to the result we arrived at."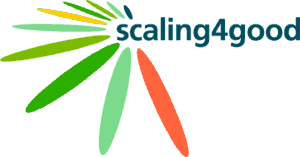 Is your organisation wondering what's the next step?
You see how the world is changing fast, and want to strengthen your ability to navigate in uncertainty and complexity with a sustainable financial model?
You want to encourage changes in behaviours and culture and wonder what is an effective strategy?
You want move from incremental impacts to leading transformational and systemic changes with your services and products?
You have come a long way and realize that to unleash systemic impact you need to engage in new types of collaborations?
You would love to have strategic and hands-on support?
Gain data on what is happening and where your organisation likes to head to, develop initiatives to support changes of culture and behaviours in your organisation, learn to work in a lean way based on experimentation.
Evaluate your past actions, update your impact logic based on the unpredictable dynamics of complex systems, and collaboratively develop a strategic way forward allowing you to develop a resilient organisational model and culture.
Gain broader perspectives on a situation you are locked-in, uncover root caused and explore out-of-the box possibilities emerging from new ways of perceiving, collaborating and functioning.
Integral consulting rooted in entrepreneurial experiences
Through my consulting services we take a strategic look at where you stand with your projects and organisation. We clarify your intention, gather warm and cold data, and learn through experimentation, while paying attention to how we move along promising paths.
I support your purpose-driven organisation by bringing presence, sound methodologies, fresh perspectives, hands-on entrepreneurial experiences, high reliability and consistency.
I work in a systemic process oriented way and apply frameworks from Integral Theory, Theory-U, Design Thinking, Lean Development, as well as behavioural sciences and sustainability expertise. I work with international teams in English, German, French and Italian.
Some project I've been working on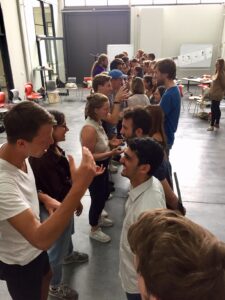 WITH WHOM: Climate-KIC Journey & TU Berlin
WHAT: developed and facilitated a workshop for 40 international students attending Climate-KIC's summer school on system innovation. The workshop was about 'How to find your impact driven career path'.
SO WHAT: within the complexity of the climate crisis and the required transformations, gaining support to find the own impact-path is of great help and not yet done with sufficient depth. 
WHEN: August 2019, Berlin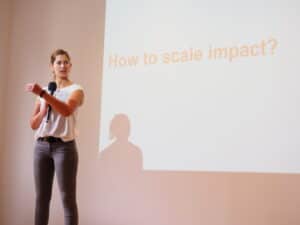 WITH WHOM: Institute for Climate Protection, Energy and Mobility (IKEM)
WHAT: presentation for the summer school students about 'Scaling impact & support behaviour change'.
SO WHAT: climate and energy engineers are highly interested in learning about social dynamics. Engaging actors and supporting behaviour change is often a bottle neck in their work.
WHEN: July 2019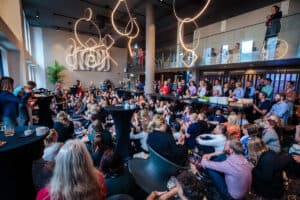 WITH WHOM: Urban Future Global Conference (UFGC)
WHAT: as a speaker of scaling4good I gave a presentation to city majors, urban developers and innovators during the 'Mind games: Changing behaviour' session about 'How to become a behaviour change designer'.
SO WHAT: there was a lot of interest about behaviour change and as the room was overfilled we had to improvise and move in the cafeteria area. 
WHEN/WHERE: May 2019, Oslo