Heart to Heart Connection Authentic Relating Workshop
Authentic Relating Workshop
Join us in this unique communication workshop, where you will experience yourself with others in a transformative space of presence, closeness and authenticity. Learn and deepen communication practices that help you create vibrant, nurturing, heart-based relationships.
When we establish a genuine heart-to-heart connection, we move beyond superficial small talk, automated reactions and overthinking. Instead, we sense our bodies and emotions. By embracing our full emotional spectrum and expressing it with vulnerability and courage, we embark on a journey that amplifies our sense of aliveness.
In this 2-day workshop, we use the theory and practice of Authentic Relating and explore what it is like to connect with others while being fully ourselves. We are honest with ourselves and each other, as we practise deep listening and compassion. We observe our communication patterns and learn to be in touch with each other holistically with openness and self-responsibility.
A co-created live-music experience (hosted by the talented musician and facilitator John Lack), an intuitive walk outside, and embodiment practices allow for a profound integration of the experiences.
3 aspects you can take away from this workshop:
More awareness in contact with others and yourself.
How to experience closeness and connection, even in new, unfamiliar situations.
More clarity about your communication patterns and how you can change them.
What will we do concretely?
We'll introduce the theoretical foundation of Authentic Relating, which we'll put into practice through a variety of engaging exercises. This includes exploring the 3 levels of conversation and foundational principles of authentic communication, practising basic and advanced techniques that foster connection and adopting a heart-based attitude. We'll put all this in relation to the nervous system and share some helpful basics. Through activities like body awareness, movement, live music, and a nature walk you'll seamlessly merge workshop content and personal insights, creating connections to your daily life.
What is Authentic Relating?
Authentic Relating is a communication practice that makes the hidden visible, the unconscious conscious, and the implicit explicit. We are present with what is and what arises between us. We practise owning our experiences and welcoming each other with all that arises and happens in our togetherness. This has the potential to be transformative and healing in our human relationships.
To be authentic is to be truthful, honest, responsible and accessible and to allow others into our inner world.
To be in relationship is to acknowledge that there is someone else at the other end of the relational field who also has a unique experience that is as rich and complex as our own. It also means becoming aware of what emerges between us when our experiences interweave.
Current scientific psychological knowledge combined with inspirations from Far Eastern philosophies create a relationship practice that is not dogmatic but pragmatic and easily accessible.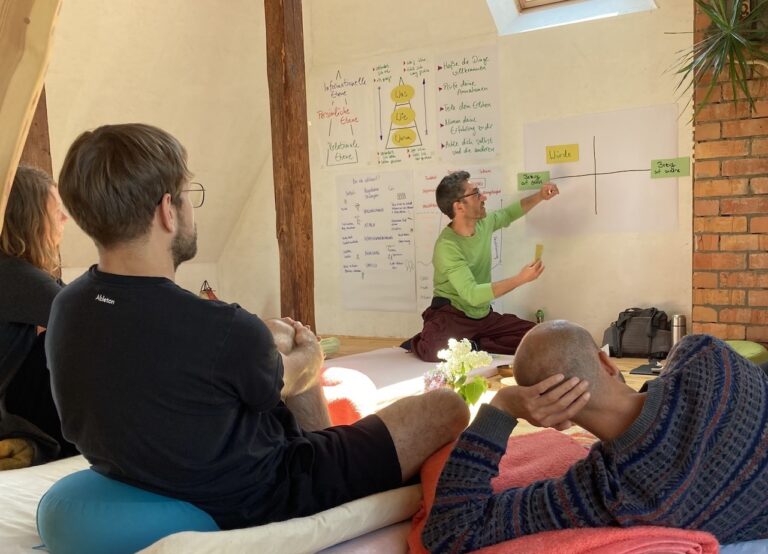 Authenticity is the daily practice of letting go of who we think we are and embracing who we are.
– Brené Brown
hin und her
" Majka and Arne have a wonderful and practical way of conveying together the topic of authentic communication, with its various facets. They create a trusting space for experimenting and (un)learning communication patterns. "
hin und her
" I liked the back-and-forth between Arne and Majka. There was an inspiring energy for me between feminine and masculine qualities, between giving and taking, between teaching and experiencing. You gave me the impression of moving with agility with the group and the processes. Authentic encounters can extend from this framework into the system."
dankbar
" I am grateful for the experiences of this weekend with a small and diverse group of people. While I practiced how to relate, I've learned more about myself. All within a lovingly held space filled with inspiration, surprises, and connection. This weekend touched me deeply and continues to work within me."
inspirierendes WK
" Arne and Majka accompanied me through a beautiful, inspiring weekend. With them, I experienced Authentic Relating as a practice they have integrated into their existence and actions. I greatly appreciated that whatever arose in the moment was allowed to be there and could be brought into contact. It touches and convinces me when people live what they teach. "
natur
" Through the experiences with myself and nature, another level opened up in me, which also had an opening effect on the encounters. For me the exercise in nature was the heart of the weekend and stood out from the workshop procedure...a fitting and inspiring combination. "
reienfolge
" The sequence of first short and then longer exercises to apply what I had learned was very coherent for me. Basically, I felt held and well accompanied by both of you. "
We, Majka & Arne, approach our work with enthusiasm, a process-oriented mindset, and a holistic perspective on human nature. Our expertise encompasses:
Authentic Relating Training (Certified by ART International)
Personal coaching and process support
Gestalt therapy training and practice
Nervous system and body awareness, embodiment
Who are we & what moves us?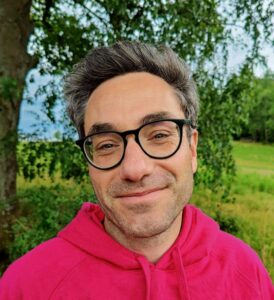 Arne, a trained Authentic Relating Facilitator (ART International), coach, and aspiring Gestalt therapist, passionately explores the interplay between emotional growth, connection to nature, and human-to-human relationships. His heart resonates with the union of freedom and connectedness, along with a holistic sense of belonging to the Earth and all living beings upon it.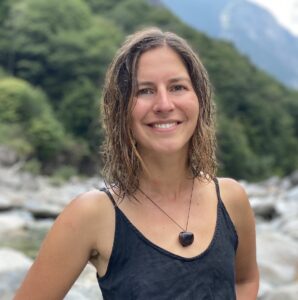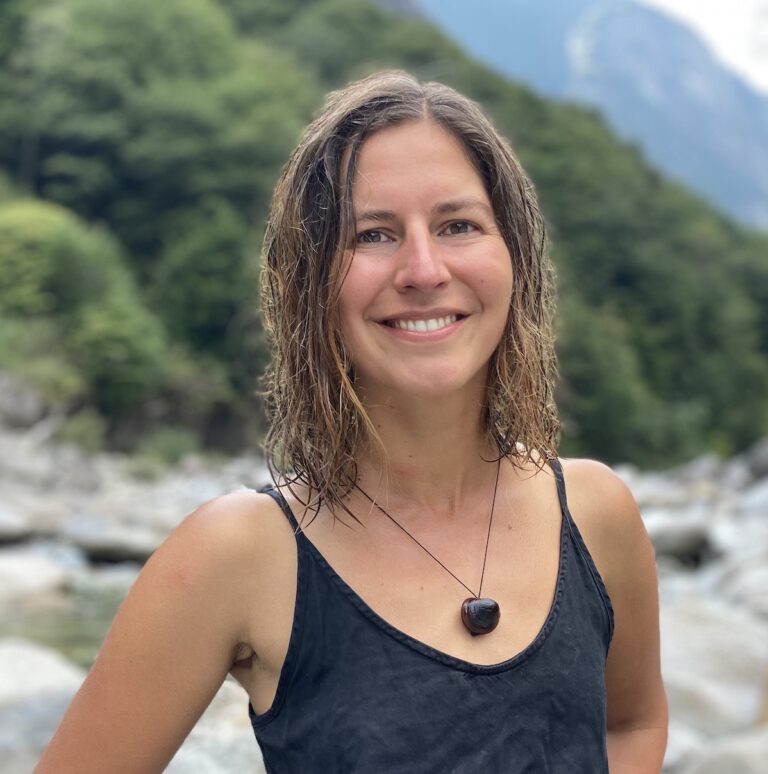 Majka guides transformative journeys of self-discovery through coaching and workshops that foster authentic connections. Her actions are driven by a deep love for the Earth and the vibrant pulse of life within us and throughout the interconnected web of existence. Additionally, Majka guides wilderness-based rites of passage and collaborates with organizations dedicated to nurturing regenerative cultures.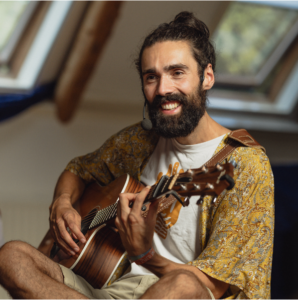 John is a facilitator, musician and human being. His mission is to facilitate spaces in which people can experience what their essence, aliveness and unconditional love feel like. He includes his experience of being a facilitator at The School of Life Berlin, a Coach for mindfulness and personal development, a Trainer of Non Violent Communication and a musician for 15+ years.
For whom:
For people who want to meet others openly and with curiosity.
The workshop will be in English, you should be able to speak English fluently (at least C1 level).
We welcome people with different backgrounds, cultures, sexual orientations, identities and physical limitations.
No previous experience with Authentic Relating is necessary. If you have already been introduced to the practice of Authentic Relating in other workshops, we offer you a framework in which you can expand your previous knowledge and experiences and integrate them more strongly into your everyday life through the exercises.
For whom is it NOT:
For people who are not ready to question themselves and step into their learning zone
The focus of this event is NOT on dating or physical contact, though profound encounters and some consensual physical contact may occur
For people who do not accept a diverse group that encourages inclusion and self-responsibility
Group size: 8-18 participants
Location: Berlin, Kreuzberg (near Görlitzerpark, at the CoopSpace)
Catering: There are many restaurants and cafes near the workshop. You can also bring your meal and heat it up in the kitchen on-site. We will provide tea, fruit & snacks for the breaks.
Workshop times:

Saturday 18.11.2023, 9:30 a.m. to 7:00 p.m.
Sunday 19.11.2023 10:00 a.m. to 7:00 p.m.
Questions: if you have any questions, please contact us by email hello @ majkabaur.com or +49 176 577 21 802 (also on Signal / Telegram / Whatsapp)
Price:
Early Bird until 1.10.2023: 260 €
Normal price until 12.11.2023: 310 €
Contact us if you would like to participate in the workshop but the financial contribution is a barrier to your participation. We'll find a solution.
Registration: Register through the registration form. You will then receive an automatic email with the details of how to pay the workshop fees (if you do not receive an email after registering, please check your spam folder). Your registration will be confirmed by a personal email after the workshop fees have been received.
Cancellation policy: In case of cancellation after confirmed participation, a cancellation fee of 50€ will be charged. Cancellations less than one month before the start of the workshop will be charged 50% of the total amount. In case of cancellation less than one week before the start of the training, we will charge the full amount (aside from emergencies).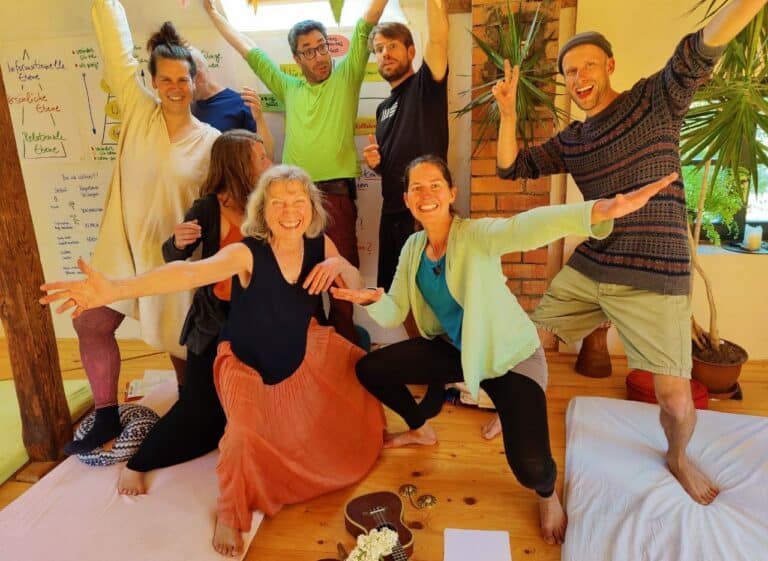 We are looking forward to welcoming you to our Authentic Relating Workshop.
Want to stay updated about the opening of registration for the next Game Nights & Workshops?
Join Majka's Humanletter or the: